Electronics are no doubt an essential part of our daily lives. Virtually every device we use, from our smartphones to our vehicles, they all are made up of electronic components. At the core of this electronic component is the Market Sector of printed circuit board which can generally be abbreviated as PCB.
It's easy to recognize printed circuit boards when seen for those of us that are technologically inclined. It looks appears in small green chips covered in lines and copper parts, you'll see at the central part of gutted electronic devices. It is made of fiberglass, copper lines and other metal components. These boards are merged with epoxy as well as insulated with a solder mask. This solder mask is what brings about the characteristic green color we often see at a glance.
Nevertheless, have you ever noticed for once, these boards with components solidly stuck on? They are not just mere decorations of a Printed Circuit Board. An advanced PCB cannot do anything until components are attached to it. A Printed Circuit Board with components attached to is what is referred to as an assembled printed circuit board, and the manufacturing process is called Market Sector of printed circuit board assembly – in abbreviation, PCBA. The copper lines on naked board known as traces, they are electrically linked to components and connectors. Besides, they exhibit signals in between these features thereby easy functioning of the circuit board to function in a uniquely personalized way. These functions start from the simple to the complex, even with the size of the PCBs sometimes as small as a thumbnail.
How the United States-China trade tariffs impact the PCB industry
The issue of tariffs and trade with China has been the most discussed topic in the news at the moment. The tariffs influencing the steel and automobile companies have been widely covered, but many other industries could strongly fall victim of the effects of these tariffs.
As at 18th July 2018, the United States Trade Representative to China, Robert Lighthizer, revealed a list of extra products (800 products, 6,031 tariff subsections) worth $200 billion that could fall prey to the 10% tariffs after a public comment scenario. Printed circuit boards (PCBs) part of that list (HTSUS Subsection 8534.00.00). Very well, a whole lot of people might think that tariff on PCBs would only affect PCB producers and distributors. But this tariff would relatively bring about an unbearable increase in the cost that could have been passed on to any industry that requires PCBs. This would mean virtually the whole electronics company and all of its branches will take part in the financial impact of tariffs.
The U.S. President- Donald Trump's explosive new tariffs went into effect this past year, forcing an additional 25% tax on goods imported from China. This has definitely affected more than $50 billion worth of "industrially cogent technologies," and could have a huge blow on U.S. electronics producers — and those who purchase from them.
More than 1,300 goods are included on the list released by the White House. The following companies will suffer this new development.
Aerospace
Information and communication technology
Medical tools
Chemical treatments
Metals
Transport
Robotics
Machinations
Other electronic products
Will Your Electronics Manufacturers Get Affected?
So, what does this mean? All suppliers should be expected to pass through the new tariffs, raising the price of all components noted in the Section 301 tariff act, such as:
Capacitors
Resistors
Relays
Switches
Fuses
Transistors
Connectors
Thyristors
LEDs
PCB assemblies
As a result of the fact that many suppliers manufacture components from different countries, you may not feel the impact until shipping whether the "country of origin" for your components will be China. That is to say, when placing orders, ECM buyers cannot tell if they'll take part in the tariff act thereby having to experience extra taxation.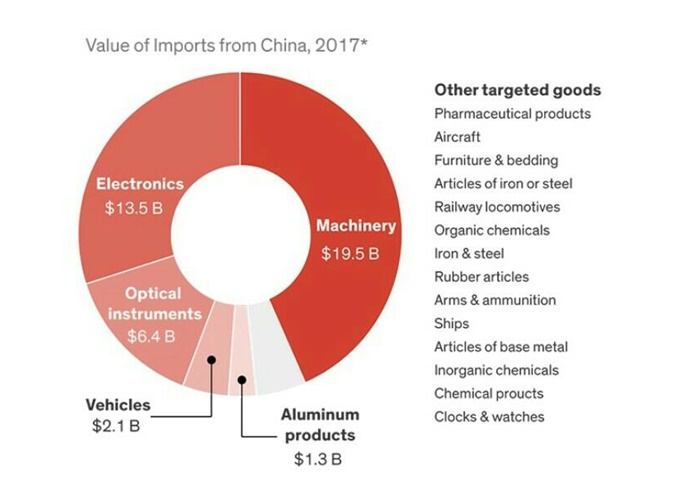 The one way to stay off tariff is to make sure that products were not reshipped into the United States from China through a third-party country. Nevertheless, expect all ECMs to comply with these tariffs act on the actualized date. Most producers will offer surcharges to OEMs, with the thought that these tariffs may likely not stay long. Others are charging at high cost anyways.
Some industry associations like the International Distribution of Electronics Association — and individual businesses such as Matric Group are sparing no effort to have substantial-level component removed from the list. Well, the best next line of action in the meantime is to stay watchful and informed about what to expect.
VALUE OF IMPORTS FROM CHINA IN 2017
According to an IPC survey, "87% of [IPC US members] import raw materials, components, and/or material from China." When asked to rate the influence of the tariffs on their industry on a measure of 0 (no impact) to 100 (a menace to survival), 35% said the effect would be so unbearable, 23% forecast mild influence, and 42% stated minimal effect. IPC as well states that
"Survey respondents also voiced concern that the tariff increases would cause an increase to the cost of base materials to manufacture high-dependability electronics. Higher prices would cause a drop in demand among customers and make United States Manufacturers less competitive in the global marketplace. Another respondent supported that the tariffs will bring about cost confusion in the marketplace and force new administrative stress as inventoried products are mixed with newly imported products."
Common Manufacturing Struggles When Shipping From Asia
These tariffs did not go into actualization by the United States governments for a very long time until after August 30, 2018. As of now, there is a public comment period where affected firms can table their concerns. If the tariffs are passed as law as is, the electronics companies can anticipate an increase in cost as many of the PCBs utilized in many competitive industries are a product of China.